Terethan is a fusion between Terrence of Majestic Guardians and Ethan of Ultimate Defenders.
He is an extrememly powerful warrior who was born via the Fusion Dance as a mean of defeating the demon, Janemba. Terrence refused to do the dance at first probably due to it being embarassing, but he eventually gave in with a little encouragement from Katara and Wasp. Terethan speaks in a duel voice of Terrence and Ethan.
His failed fusion counterpart is Etherrence, who happens to be obese, short and weak, in opposition to Terethan being tall, strong and well-built. Etherrence can only attack with flatulence as means of defense. This is because Terrence failed to stretch his fingers at the final stage of the dance.
He appears in "The fusion of Two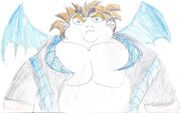 Warriors".