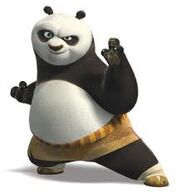 "Skadoosh!"
Po before defeating Tai Lung with the Wu Xi Finger Hold (Kung Fu Panda)
Po is a gluttonous giant panda and a kung fu fanatic, as well as the Dragon Warrior. He first appeared in Dreamworks CGI animated film, Kung Fu Panda and its sequel, Kung Fu Panda 2.
As a cub, he lived in a peaceful village inhabited by giant pandas, which was eventually ravaged by the tyrannic peacock prince, Lord Shen. Po was later adopted by a goose named Mr. Ping in the Valley of Peace. After coming of age, he was chosen as the prophesied Dragon Warrior and defeated villains like Tai Lung and Shen.
He first met the Guardians in his home village and his talent was considered by the team to be useful and they wanted the panda to join them. But the Guardian, Darkrai initially was against the idea. But after Po assisted the Guardians in defeating Xaldin and his dark legion of Nobodies and Heartless, Darkrai reconsidered and agreed with his teammates to let Po join the team.
He loves to eat and has problems with stairs.