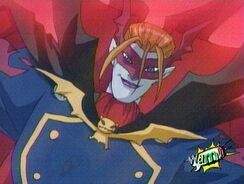 Myotismon is a fictional characters from the Digimon. He is the third major villain in the first season of Digimon, and the main antagonist of the second season of Digimon.
In 'Marriage of the Vampire', he once tried to marry Wasp as his bride and order his henchman DemiDevimon stop by the Majestic Guardian failed. he fought Terrence and transformed to his monstrous form VenomMyotismon who destroy Demidevimon and himself.
In Atlantis, He made a cameo appearance as Yukio Oikawa to meet General Thade, Olympius and Darth Vader.
In 'Excalibur', Myotismon revealed he possessed Yukio and revealed his true form as MaloMyotismon and fought Terrence. He was defeated and destroyed by Terrence with his excalibur.
In Neo Crusader Movie: Brothers Reunion, He and Olympius has return to get revenge on Terrence only he was defeated again.