Jill Valentine is a character from a video game, Resident Evil 5.
She appeared helping the
Guardians
and the Half-Saiyan Ultimate Lifeform,
Ethan Tidwell
, in defeating
Albert Wesker
. She became a member of Ethan's team,
Ultimate Defender
and has a rivalry with
Zoey
,
Amy
and
Aqua
to win Ethan's affection.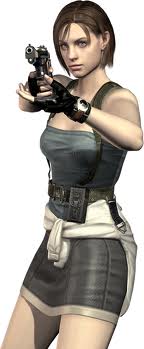 In Majestic Guardians movie "Bio-Broly", she along with Ultimate Defender and Majestic Guardians were invited by Demona to an island to face them by using Bio-men.
She's a childhood friend of both Ethan and Alexis Rhodes.
In Knights and Defender, She was captured by Team Rocket along with the other Ultimate Defender members.