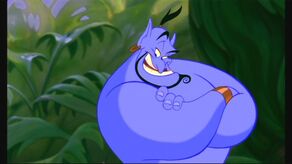 Genie is a character from Aladdin, its sequels, and Television series. He is the magical friend of Aladdin and is the most popular character from the franchise. He's a member of Ultimate Defender and good friend to Terrence,
In the 'Fusion of Two Warriors', He and other members of Ultimate Defender was helping the Majestic Guardians to defeated Janemba.
In Majestic Guardians movie "Bio-Broly", he along with Ultimate Defender and Majestic Guardians were invited by Demona to an island to face them by using Bio-men.