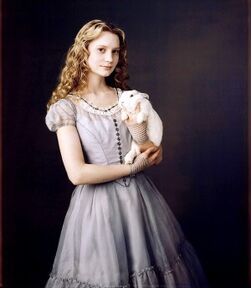 Alice Kingsleigh is fictional Character from 2010 Alice in Wonderland. She was young and remember of going to Wonderland.
She's a member of the Robot House Gang.
In Olympius' Rage, She made a Cameo appearance befor Becca Lupin begins to leave.
In Anubis' Final stand three parter, She along with the others help the Majestic Guardians to face the Anubis Empire.
In 'The Girl who Could not speak', She and ther was captured by the Enchantress and saved by the Majestc Guardians and Helena.